Flooring in any room of your house is an investment, but I've always found the flooring in your kitchen and bathroom tends to be more of a long-term investment.
With rooms such as bedrooms and living rooms, most of us tend to change the carpet whenever we do a huge overhaul on the room and revamp it, which is always more often than our kitchen. So, with that in mind and knowing that your kitchen flooring will be down for a while, it makes that decision on what to put down even more important as you need to love it. It also needs to work practically for you and your family, throwing kids and pets into the mix is just another thing to consider.
There is a huge range of options that are around for you to pick from, along with a choice of shops to go and view. Before you order, it may be worth taking a look around a few stores to get a feel of what may work for your room.
Things to consider for your kitchen flooring
Type of flooring – There is now a huge choice of flooring for you to pick from, there is more on some of these below. I personally love, parquet flooring but I am not sure this is the best choice for a kitchen, more suited to a living room or dining room.
Colour – Depending on the size of the room, you may be looking to go for a lighter colour to help bounce light in your room or you may be looking for a statement colour.
Fitting – How are you fitting the flooring? Is it part of a kitchen refit? Making sure your fitting is good will help ensure the life of your flooring.
Floor preparation – This all depends on the state of the floor you are fitting to. The better the floor, the easy it will be to lay your new floor.
If you are unsure of what flooring to pick, here are some of the options you can pick from and why they may be suitable for you and your home.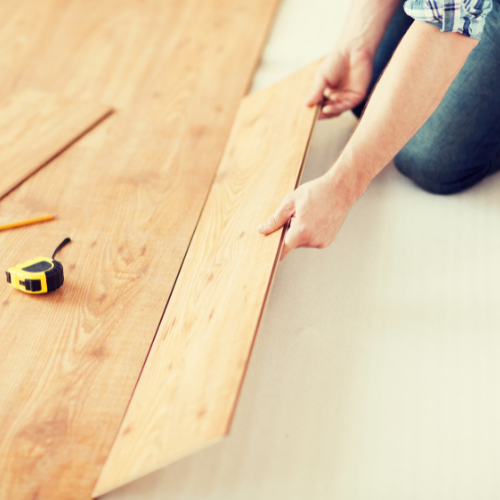 Flooring choices
Tiles
Personally, for me, tiles for the kitchen are the best choice.
If you invest in good quality tiles and you have them fitted correctly, they can last for years and always come up looking clean and fresh. There is also a huge range of tiles to pick from, in a variety of colours, shapes and sizes. So, no matter what impact you are looking to add to your room, there is something for every style.
There are ways to be creative with tiles too, you can mix it up with sizes, shapes and colours to make your flooring unique to you.
Laminate
Laminate flooring has fast become a popular option in homes due to its ease to lay and clean. It is also more of a budget-friendly option compared to the others but still gives you that sleek finish. There is now a wide range of flooring that is out to resemble 'real' wood or stone.
The only thing to consider with laminate is, although it is water-resistant, it is not waterproof. So should you have something such as a washing machine leak or burst pipe, it may well damage your floor in the process.
Vinyl
Vinyl flooring is an all-around good choice for kitchens.
It is waterproof and pretty simple to lay, but it does need you to take care in the fitting stages to ensure it is long-lasting. With vinyl, if you do not have a smooth underfloor you may find the bumps show through on the vinyl.
Regardless of which floor you choose to go for, if you take a little time before your floor is put down, not only will you have a better finish, it will hopefully last a little longer too.